~ Calla Lilies
Aluminum and Copper Metal Work
Calla Lilies in a Vase
Copper & Aluminum
Metal Work Art approx. 22-1/2"x14"
100% Handmade
Original Design made on raw Aluminum & Copper sheet, colored with special brown/antique, Green & Yellow patina. It's attached to acid free foam board and ready for framing.

*Callas can be easily replace for any other flower or plant of your preference.(the design will be sent to you first for aproval, your price may vary)
Each piece I make is unique, so the new one will never exactly alike, but will be very similar, this makes the so special.

This piece is crafted upon request, which may cause the delivery to delay a few more days and will be shipped accordingly, within approx. 20 business days after payment is received.

All the work is handmade by me in my shop. Please see store shipping policy for my metal work items.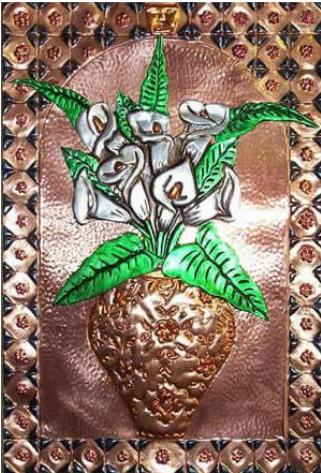 $280.35 USD + $25.55 S&H USA Only